Cutting out tails and shape better your sound after processing could be challanging, here we are going to see how to tighten up synths or any sound with a very powerful technique.
For this purpose we gonna use the great Fabfilter PRO – MB plugin, witch is a very deep instrument, with a lot of options, you can use it for a lot of different tricks.
The common use of a multiband compressor is to compress, of course, but with PRO MB we can even expand the sound. This option will give us the ability to control the shape of it.
let's dig in!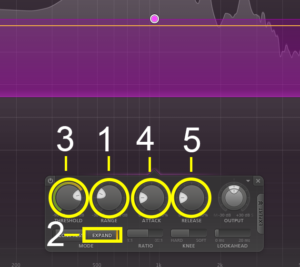 Le't start by using just one singe wide band and let's put the range (1) all the way down, the range is the volume point of our output if the band isn't triggered.
If nothing happen our sound will just stay at that volume.
Put the band in expansion mode (2)
And here's trick, we'are going to fine tune our threshold (3) for trigger the movement of the band.
Once the sound trigger the threshold the expansion bring up the volume of the sound,
We can smartly control our expansion by using the attack (4) and decay (5) knob.
The attack know should be with low, the decay knob becomes the control of the overall length of the sound.
Also, the ratio and knee will help you to go harder or softer.
Watch the video for seeing this technique in action with a Tech-House track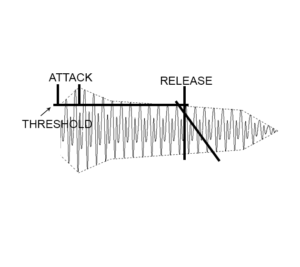 You can think about how a gate works, but way more powerful because you can have both subtle or more dramatic results, remember to use the range know with taste.
You can use this trick with a lot of different sound, remember also that the PRO MB has a Sidechain input, so you can use any other source for trigger the expansion.